Multifamily Property Listings in Boynton Beach Florida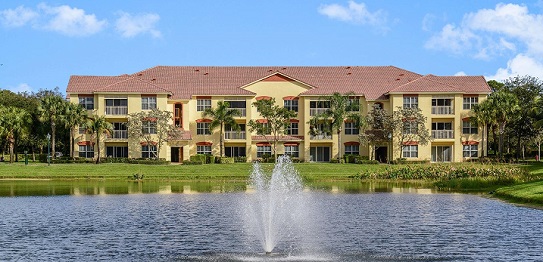 The State of Florida sees another large multifamily real estate transaction. The Commercial Real estate company called, Greystar has purchased 214 apartment units. This Apartment Building Listing which was for sale is located in Palm Beach County, Florida.
Greystar was founded in 1993, and they provide world-class provisions in the multifamily real estate business. This commercial real estate investment company has an innovative business model. Their process integrates the management, development and investment disciplines of the multifamily industry on international, regional and local levels. This unique has helped make them one of the most respected and trusted multifamily commercial real estate companies.
Boynton Beach Apartment Buildings
The 214 apartment units in Palm Beach County are known as Advenir at Colony Club in Boynton Beach. This multi-family real estate acquisition is classified as a Class A garden community. We have seen a strong demand from commercial property investors who are eager to capitalize on buying Multifamily buildings in Florida. In fact this Florida Apartment Building Listing had quite a bit of interest from other commercial property investment groups.
Hampton Beebe, the executive managing director with ARA Newmark was quoted as saying "The property was well received in the market from a wide variety of investors including private local groups, international investors, regional operators and large national private REITS,".
We read that over 175 Confidentiality Agreements to view the specifics of this Boynton Beach Listing were signed very quickly. This shows that Apartment Building Investors are extremely interested in Florida Multi-family Listings for sale.
Florida Apartment Investment Property
This Apartment Investment Property is situated at 7132 Colony Club Dr., in Boynton Beach. This Colony Club Investment Property is about 15 to 20 minutes outside of growing downtown West Palm Beach. This Commercial Property is about ten years old with currently about 94 percent occupied. A Multi-family Investment Building with these numbers made it very attractive to commercial real estate investors.
These Garden-style multifamily investment properties which were built between 2000 and 2008 are rare in South Florida. The community reinvestment act and other economic factors halted much of the building of Apartment properties in Florida. The Palm Beach County area did not see much commercial real estate developments until about 2012.
The buyers of this Boynton Beach Multifamily Property Listing have mentioned that they have ideas to upgrade the Apartments. The property is close by the Western Beef in Hypoluxo and close to plenty of retail shopping and all types of restaurants.
Buy Multifamily Florida Properties
Our staff is exploring innovative ideas for new ways to serve our commercial real estate investors with more Florida Listings. Contact us for more Palm Beach County Investment Properties or Other Florida Multifamily Property Listings.
Contact us to buy or sell Commercial Properties in Florida.
O'Reilly Commercial Realty LLC
Patrick O'Reilly
Phone: (352) 237-2222
Email: OreillyCommercialRE@gmail.com