Citibank Ground Lease Investment Property in Florida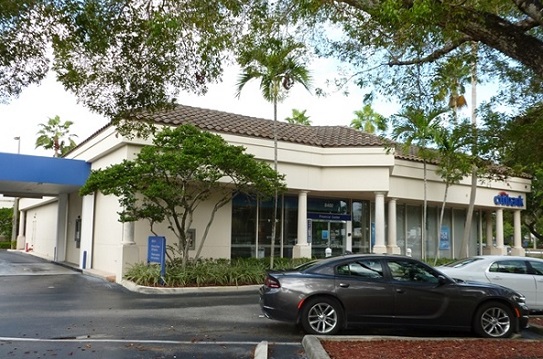 There is a wide variety of Retail Properties For Sale in Florida. There are many Cities to invest in such as Plantation, which is near Fort Lauderdale. This Property below is an example of a Florida Net Leased Investment Property. The Financial Summary for Major Tenants vary across Florida as does their Net Operating Income.
Contact us for all your Commercial Real estate needs.
O'Reilly Commercial Realty LLC
Patrick O'Reilly
Phone: (352) 237-2222
Email: OreillyCommercialRE@gmail.com
Prices vary: from $1,000,000 to $9,000,000.
We have some information which is deemed reliable but not guaranteed and should be independently verified through personal inspection by appropriate professionals. We hope this gives you an idea of what might be available.
Building Size: 5,676 SF
Price per SF: Varies per purchase price
Property Type: Retail
Property Sub-type: Free Standing Bldg
Property Use Type: Net Lease Investment with at least 5 years left on lease
Cap Rates: From 4.25%
Occupancy: 100%
No. Stories: 1
Tenancy: Single
Property on Ground Lease?: Yes
Year Built: 1996
Lot Size: 0.88 AC
Highlights
Outstanding bank location with high deposits
Suburban Fort Lauderdale submarket surrounded by 4.8 million square feet of office and 12.3 million square feet of retail
Four drive-thru lanes for 24-hour banking
10 percent rent increases every five years
378,000 people in a five-mile radius
Description of Florida Commercial Real Estate For Sale
Some Subject Properties sit on a .88 acre ground lease under a 5,676 square foot Citibank with a four-lane drive-thru in the beautiful suburban Fort Lauderdale, Florida.
Citibank has executed 10-year leases on various buildings. The ideal lease is an absolute net with no landlord responsibilities. There are some properties with numerpus five-year options with 10 percent increases in each option period.
Citibank has been in this successful location since 1995. The property is surrounded by 4.8 million square feet of office space and 12.3 million square feet of retail in the Plantation submarket.
There are more than 376,000 people within five miles of the property with an average household income of $83,000 in the area immediately surrounding this asset.
Broward Boulevard is the main commercial thoroughfare through the Fort Lauderdale metro area. Citibank is surrounded by offices, restaurants, hotels and a dense concentration of medical offices. The property is directly across from Westside Regional Medical Center, a 215-bed medical and surgical hospital.
This example property was approximately 1/2 mile from the 1,000,000 square foot Westfield Broward Mall, anchored by Macy' s, Dillard' s and JC Penney, which has a recently added 12-screen Regal Cinemas, with a Super Target outparcel. There have been plans submitted to redevelop the Fashion Mall property, which is also 1/2 mile from Citibank into a 1.35 million square foot open-air center with 712 residential units.
In addition to the extensive retail and restaurants, there are numerous multi-story office buildings in the area creating a daytime population that exceeds the residential population in the area immediately surrounding Citibank. The property is across from the courthouse and the library.